You're Here For A Good Time, Not An Ordinary Time!
It doesn't have to be Mother's Day, her birthday or any special occasion to take your mom out for a good time. After all, mother-daughter time is essential! However, you've probably already done the shopping at Easton, gone for walks at the Metro Parks or got your nails did before getting a bite to eat. 
There's a seemingly endless amount of ideas out there to spend time with one another, but if you're looking
for something different and out of the ordinary, we've got the perfect Columbus mother-daughter date ideas for you! 
Start The Morning With "Mother" Nature
There's nothing better than waking up, hitting the outdoors and getting your steps in. One place on your not-so-ordinary day date can be Franklin Park Conservatory and Botanical Gardens.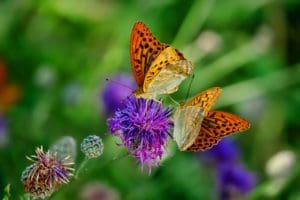 Who doesn't love looking at nature and then being all around beautiful butterflies? The butterfly exhibition has been waiting for you to see its beauty this whole time! Outside of engaging exhibitions, there are a number of other expeditions to explore, creative writing workshops, beginner Tai Chi programs and culinary arts classes.

There's a ton you two can do in just one place! But don't burn yourself out – you've got a full day ahead. 
Take It Easel: You've Earned Yourself A Drink
So, you recently had a little argument with your mom and you're trying to get past it. Take that emotion and turn it into something beautiful by trying out a paint and pour class at Studio 614! Pick up the brush and put the tizzy between you two behind. There's no way a smile won't appear especially after a couple glasses of wine and a few strokes of artistic genius. 
Have some wine, get your feelings out and bury the hatchet – or should we say … axe. 
Grab a Slice & An Axe; Step Outside The Box & Down The Lane
There's no doubt you'll be hungry as the day goes on and who doesn't love pizza? It may be original, but what about eating pizza and throwing some axes? Grab a box of 'za and bring it down to Dueling Axes with that bottle of wine you have left over from your paint party – you know, that one you were totally going to save for a later date. You can bring your favorite food (or have it delivered), break open your favorite booze (besides hard liquor) and end your   mother-daughter day with some friendly competition.
After all, nothing says "I love you" quite like whipping an axe down a lane for points!
Reserve a Lane Today!
The Night Is Still Young
Still hungry after all that axe throwing? There are plenty of amazing restaurants close by to Dueling Axes – many are even within walking distance. 
Interested in some tapas? Check out Sidebar. 
How about literally any sort of hotdog you could possibly imagine? Dirty Frank's is where you want to be. 
Can't decide, but know you want something good? Head on over to Hadley's. There's even more restaurants and bars that can satisfy your taste buds that are just steps away! 
Dueling Axes: Your Future Go-To for a Columbus Night Out 
Skip the "been there, done that" and make Dueling Axes the centerpiece of your next mother daughter date. Full service bar onsite and outside-food friendly and hours of axe throwing surely make for a one-of-a-kind experience! 
Reserve Your Lane!