Axe Throwing in Columbus
We will NEVER pair your group up with others you don't know
To reiterate, we promise to NEVER pair you and your group up with other people you don't know. Your group will always be on your own throwing lanes. We will put up to 6 people in a single lane (all of the same group of course). As soon as your group has more than 6 people our reservation software will automatically put your group on a second lane that is right next to the first. In addition, all of your safety and technique training is provided before the start of your actual axe throwing reservation time starting so you get your FULL time to throw and play games. This is true at ALL Dueling Axes locations – Downtown Columbus, New Albany, and Las Vegas.
Make your axe throwing reservation
Making your axe throwing reservation online has never been easier. Use our online scheduling calendar to see real-time availability in our space. Once you've chosen the location where you want to throw, clicked on the date and time you want, and filled in your information, you'll receive a confirmation email with a link to our waiver and membership application. Please note, the waiver is required for all attendees in your group whether they are throwing or not and it is recommended that they are signed prior to arrival. We recommend you arrive about 15  minutes early to get checked in and receive your safety and technique training.  Not seeing what you're looking for or have a special request regarding your axe throwing reservation? No problem. Contact us or call 614.221.1600. We can take deposits over the phone and double check availability to make sure you get the reservation you want.
Checking in for your axe throwing reservation
When you arrive and check in, one of our friendly staff members will provide safety and technique training before the start of your reservation. That means you get your full 1- or 2-hours of reservation time to actually play games. After the brief training session, your group will be guided to your dedicated throwing lane. Your reservation time begins once you start gameplay on your own lane. During your stay, our staff is available as much or as little as you'd like so your group can experience axe throwing the way you want. We won't hover over you, unless you want us to of course. AND there is digital scoring at every lane that will give you different gameplay options, gameplay instructions and will keep track of the score for you.
Craft cocktails, beer, wine and food at Dueling Axes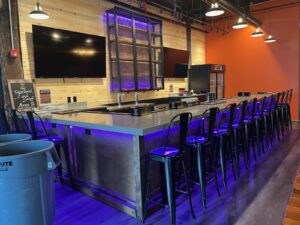 Our Downtown Columbus axe throwing lounge now offeres a full-service bar and is outside food friendly so feel free to bring in any food you want while you're throwing at Dueling Axes, but leave the drink slinging to us. Don't want to haul in your own food? Don't worry, you can order from any of the neighboring eateries and they'll deliver their full food menu directly to your lane(s). All with FREE delivery. Each lane has its own, designated seating and table space for your group to enjoy. Our lounge is spacious, comfortable and filled with great music. So grab your friends, a pie from up the street and come axe throwing. Make your reservation now or give us a call at 614.221.1600 and we can help answer any of your questions.
Our New Albany axe throwing lounge operates very similarly. Our second Columbus location, located in The Plaza at Hamilton Quarter in the New Albany/Gahanna area is nearly twice the size of our downtown facility and has a full service bar. You can order drinks right from your lane, or just pop in and chill at the bar or in one of our lounge seating areas. Kick your feet up and watch a game on one of our three 75″ TVs, or scope out the local axe throwing competition. This location is also outside-food friendly so feel free to bring in any grub you may want.
That's all there is to it! Check out the FAQ page or drop us a line if you have any other questions!
WOW, you're really doing your homework, so here's 10% off your 2-hour reservation