Axe Throwing Happy Hour Beer Leagues start Monday, September 12, 2022 – Sign Up Here
Fall LEAGUE STARTS SEPT. 12, 2022
@ our New Albany Location
All league members will receive 20% off of reservations Sunday – Thursday during the duration of the league – ALL SEASON LONG!
Dueling Axes Fall Happy Hour Beer League
We're keeping the fun going with our 2022 Fall League here at Dueling Axes Hamilton Quarter located at 5780 N. Hamilton Road in New Albany! This Happy Hour Beer League will keep the focus on fun and camaraderie while featuring an open format of one-on-one pick-up games. Play as many games as you can, each week, during the two-hour league session. Our digital scoring system keeps track of your game scores and sends them directly to the League Commissioner. This season will begin on Monday, September 12, have a bye week in observance of Halloween on October 31, and will have its final, 8th-week double-elimination tournament on Monday, November 7.
We will look at continuing our specialty nights from some friends of Dueling Axes. We're inviting back Yellowood Farm to participate one night with a pop-up-shop full of custom leather goods, vintage restorations, sheaths, axe hip holsters and apparel. Also making another appearance will be our All-Star night, where a few axe throwing pros will come in to compete and provide guidance to our league members. Each season, on week 7, we also host our league member potluck (always a good time).
Important Dates:
September 12 – Opening Night
September 19 –
September 26 – All-Star Night
October 3 – Yellowood Market Pop Up
October 10 –
October 17 –
October 24 – Week 7 league member pot luck party
October 31 – Bye Week in observance of Halloween
November 7 – Final 8-week bracketed tournament
Here's how it will work:
Players will pay $120/ea to participate in an 8 week league of singles play.
League night will be held on Monday nights from 6-8p.
During the two-hour time players are free to play the League Style game on the scoring app against any other member of their choice.
Members can warm up and play as many games as they want during the league night hours.
After completing the game, players must email scores to joshua@theduelingaxes.com in order for them to be tabulated towards an average score which will be used to place the player on our Leaderboard.
After 7 weeks of play, players will be placed on a tournament bracket based on their standing on the Leaderboard.
On week 8, Dueling Axes will hold a Happy Hour Beer League Double Elimination Tournament to crown the season's champion!
This league will be capped at 24 individual participants.
All other League Play and Code of Conduct rules remain the same. Keep in mind that in addition to being competitive, we want league players to have fun above all. Be courteous, be honest and Duel away.
Playing during & after matches, stick around to watch your favorite sports on our 75″ TVs! Sign Me Up!
Sign Up Now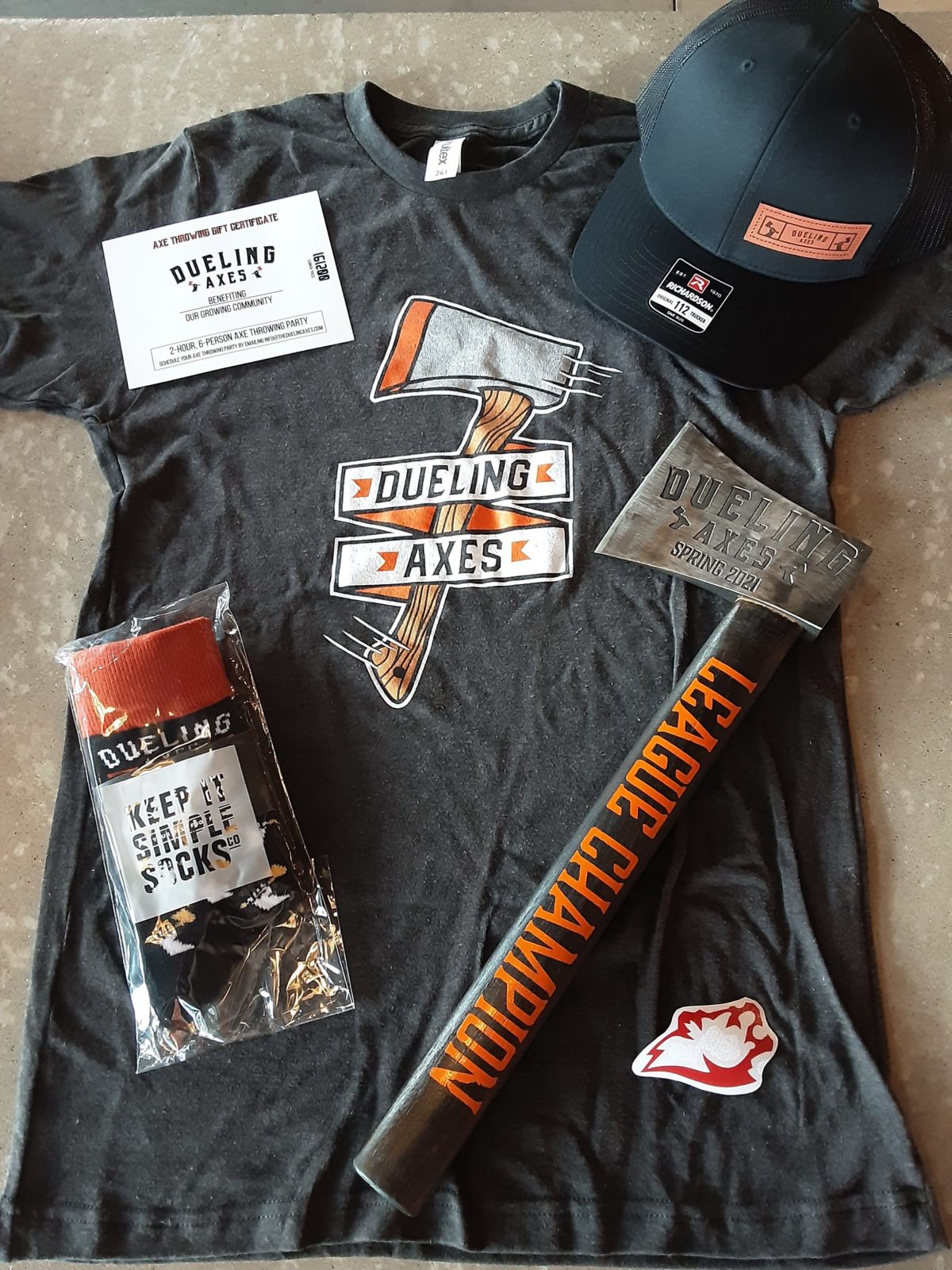 Fall Beer League Sign Up
$

120

Per Person

8-week axe throwing season ($15/week).

Each league night allows every participant as many games as they can fit in during the 2 hours of open play.

2022 Fall league will compete on Monday nights, starting September 12. Competition will begin at 6pm and end at 8pm.

Weeks 1-7 will be for final tournament seeding. Week 8 (November 7) will be a double-elimination bracketed tournament.

Full bar amenities onsite. Outside-food friendly.

Winner receives a custom trophy, t-shirt, hat, and socks, a 6-person/2-hour Dueling Axes session, and a chance to compete at larger competitions.

Check league style play here.