Article originally posted by Columbus Business First written by Amanda Tonoli  –  Staff reporter , Columbus Business First – March 4, 2023
An Arnold Sports Festival of Firsts
Sold-out parking and shoulder-to-shoulder crowds are what you'll likely find in downtown Columbus if you decide to check out this weekend's festivities.
The 2023 Arnold Sports Festival is dominating several downtown spots, most notably the Hilton Columbus Downtown and the Greater Columbus Convention Center.
Columbus Business First caught up with some festival first-timers to hear about their experience at the event, one of the region's biggest annual draws and part of a stacked lineup of downtown happenings this weekend.
Some attendees are athletes, both competing and observing.
Dustin Fletcher, 22, is a power lifter from the University of Michigan. He said the team wanted to come see the sport "at the highest level and all the big names and big companies that made (it) what it is."
Others just came for the experience.
Charlie Wendt, 14, of Dayton, took part in axe throwing at Columbus' Dueling Axes mobile unit on site at the festival.
"It's just been amazing," Wendt said of the event. "It's totally different than anything I've been to."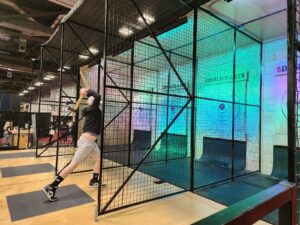 Dueling Axes was making its first appearance at the Arnold. The business had planned to participate in 2020, when the arrival of the Covid-19 pandemic led to the shutdown of the Arnold's annual expo and a variety of other restrictions.
Joshua Stambaugh, Dueling Axes' general manager, said business was going well Friday, with throwers paying $10 for 10 throws. As of 2 p.m., the mobile unit had seen more than 100 throwers, and expects 200 by the end of the day.
But that part of the business isn't the goal of Dueling Axes's presence.
"It's about exposure," Stambaugh said. "We are a growing company available for company parties, group gatherings, you name it. We'd like to see more of that."
—
Interested in learning more about Dueling Axes' Mobile Facility?
Take your party or event to the next level with Dueling Axes' mobile axe throwing facility! Featuring 4 throwing lanes, party lights, built-in speakers and PA system, full staffed – it's a party on wheels. Get all the info you need to plan your axe throwing trailer in Columbus event.