Dueling Axes – where throwing axes is just business as usual
Who hasn't dreamed about changing your life around? That's what Jess and Paul did: from the construction industry to throwing axes.
We probably all have experienced a feeling off… smashing things. Or breaking things. Hit someone on the head. With a chair. That kind of thing. But fortunately, most of us can keep their cool. But wouldn't it be great to sometimes just let off some steam? That you can let that frustration out. That desire to do something crazy. Like… I don't know… Like throwing an axe?Yes! Like throwing an axe. Isn't it amazing that you can do that exact thing at Dueling Axes?! With single-target lanes and a razor-sharp axe you can bring out your primal self.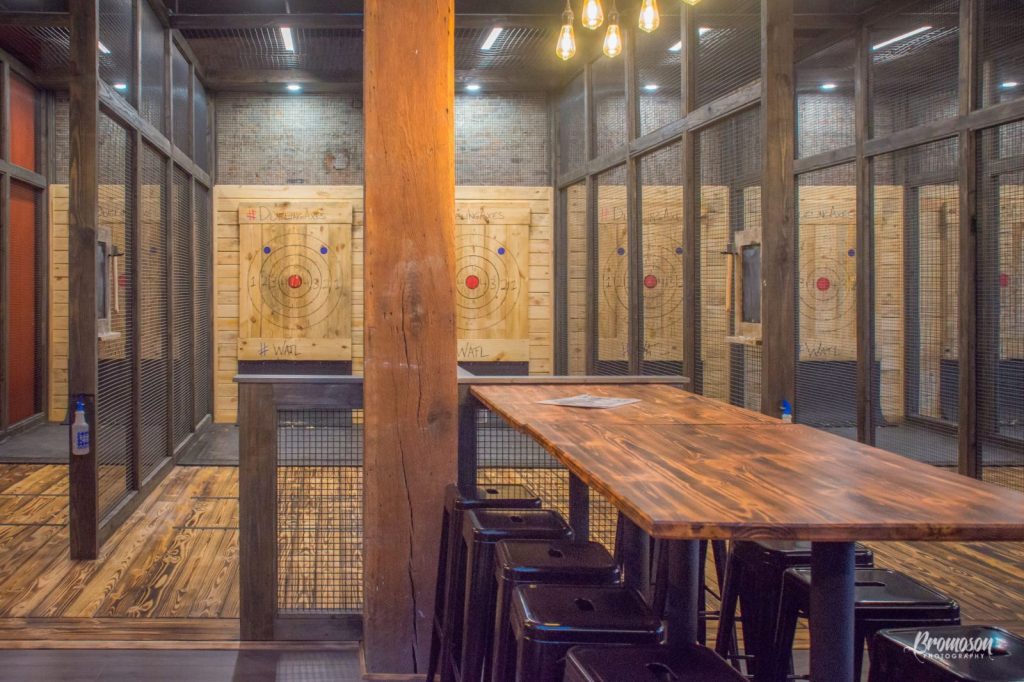 It all started in 2017. Jess Hellmich and his business partner Paul Sherry came across a LinkedIn article that discussed the industry of throwing axes. Having the construction industry as a professional background, where every day brought a bigger headache and complicated challenges, they could use a refreshing change of pace. Jess: 'After a relatively short conversation and some quick napkin math, we both decided we were intrigued enough to start researching the industry to see if it was a viable option to go out on our own.'
This was before the explosive industry growth in late 2018 and 2019, so it took some balls to get out there and see if the market for throwing axes was a viable one. They took the time to come up with a good plan: 'We spent nearly 6 months developing a detailed business plan. And eventually we found ourselves touring commercial real estate to find the right location.'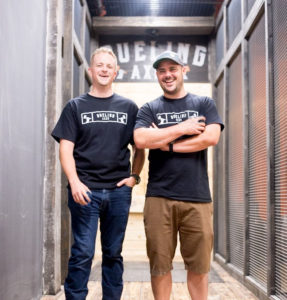 The industry is a fast growing one, but that doesn't mean it's automatically easy to run a business. Especially when confronted with growth, it's important to make the right decisions and to take some risk. 'I wouldn't call it "struggle", but managing our growth has taken a lot of work,' Jess says. Considering they started in 2017 and now have three locations, with a new one in Las Vegas on the way, "a lot of work" isn't an exaggeration. The new Las Vegas location will be nearly three times larger than the original facility, with a beer and wine bar in AREA15 just off the strip. As Jess says: 'It's a big swing and it has taken many, many hours of commitment, lost sleep, and determination.'
Luckily they started off with a strong team, which helped them manage all the different processes. Because you can't do it all on your own.
How interesting it all sounds, did Jess and Paul really just start the business because they saw a LinkedIn article. Well, yes and no. The article kick-started it, but as every business knows, a good business starts with a passion. Jess: 'Even as a young kid moving through the ranks of Boy Scouts, a well-crafted blade always fascinated me. Whenever I could, I would carry a small knife with me and I would constantly find myself using it as an indispensable, daily tool.'
Even today he carries a 3.5″ Elk Ridge, spring assisted folding straight blade. Like many knife-lovers will understand, some knives just have a special meaning. 'It carries some sentimental significance for me as well, with a custom handle engraved to commemorate my officiating of one of my best friends' wedding,' he says.
Okay, a knife is not the same as an axe, but it would be a bit difficult to walk around with an axe all day, wouldn't it? But the affinity with sharp instruments was there. And like Jess says: 'When it comes to throwing axes, let's face it – it's just plain fun and incredibly satisfying.' And he can know, because he runs a friggin' company that's all about throwing axes. He continues: 'Throwing an ancient tool into a chunk of wood and getting it to stick provides a feeling of euphoria that is hard to match.'
I don't know about you, but it makes us feel like trying it out!
See for yourself – doesn't it look cool?!
So what kind of axes do they use? You might have spotted in the video that everyone has the same axe. That's because you're not to bring your own axe (unless it is during league nights). Not really a bad thing though, because you wouldn't want to mess up your axe. The handles take quite a beating (especially with beginners, the axe doesn't always stick), and that's why they also don't use fancy, expensive axes. And for safety reasons they decided to stay away from rubber covered, metal handled axes. Jess: 'Our everyday, house axe is a 1.25 axe on a hickory handle that is about 14″ long. We've standardized the axes so that it allows for a better overall coaching and throwing experience.'
Not only throwing experience, but the entire customer experience is a central concept for Dueling Axes. Jess sometimes feels that the service industry has moved too far away from paying close attention to customer service and that many companies seem to forget that the customer is the lifeblood of their business. That's why everything they do is tailored to provide an exceptional experience that guests can't get anywhere else in the industry. And that's important, because nowadays you need to be able to differentiate yourself. Otherwise people just go to the competition. Jess is especially proud of the atmosphere they create: 'It's the ease of coming in and doing it without effort. It already starts at making the reservation. From A to Z, we have you covered and we're committed to doing what it takes to ensure the customer has a fantastic time.'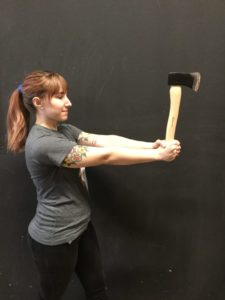 There are two ways to throw the axe: 1 hand holding the axe & over or behind the head. Or 2 hands holding the axe & over or behind the head
With three locations and the expansion in Las Vegas, what other plans does Dueling Axes have in the future? Well, they plan to keep on expanding and evolving the brand and services they offer. They like to challenge themselves to continue being the best, stay in front of the trends and provide the best experience and customer service to their customers. 'We see a lot of businesses bringing in additional experiences, like rage room options, into their venues and other industries like go-karts and laser-tag businesses are incorporating axe throwing,' Jess says. 'We've even seen "glow party" formats using black lights and fluorescent paint on the target boards. From our perspective, it's unnecessary. Axe throwing by itself is really, really fun and engaging. It's the execution of the customer experience that sets us apart from the competition and keeps our customers coming back for more.'
Jess thinks that eventually technology will also be introduced in the industry. He compares it with the evolution of bowling, that went from a simple ball and pins to flashing lanes and disco bowling, and can now be played on your smartphone. Heck, maybe one day you'll have their app on your phone, because whatever the future will bring, Dueling Axes will be there. Driven by creating the best customer experience and especially his 2.5-year-old, Jess is motivated to make the business a success and grow it into something his daughter can be extremely proud of.
Soon after our interview, the COVID-19 pandemic forced most companies to temporally close. We're happy to say that Dueling Axes withstood this uncertain and difficult time. Jess & Paul re-opened again beginning of June and are now fully operational again.
Ready to book your axe throwing experience?