The History of Axe Throwing
The history behind axe throwing is long and rich since axes have been around since, well, forever. First used as a tool to hunt or gather food and also to build shelter, it's now evolved into a very popular and growing sport. Axe throwing, which started as part of a larger competition for lumberjacks, is now a staple team-building activity and a fun way to spend a night out with friends.
Ready to learn more about the history of axe throwing as a sport? Keep reading!  
Where did axe throwing originate?
As a sport, axe throwing has been around since the 19th century. Starting in the early 1800s, logging camps were all over Canada and the United States. Of course, the lumberjacks needed some way to blow off steam and entertain themselves.
With the little resources they had, they turned to what was already in the camp- their axes and other logging supplies. This gave rise to Loggersports in the 1940s. Logger sports and lumberjack shows became very popular and are still around today as an homage to the history and legacy of the profession.
In fact, a member of the Red Bull team visited our Columbus location to demonstrate part of the beginning of the history of axes as a sport.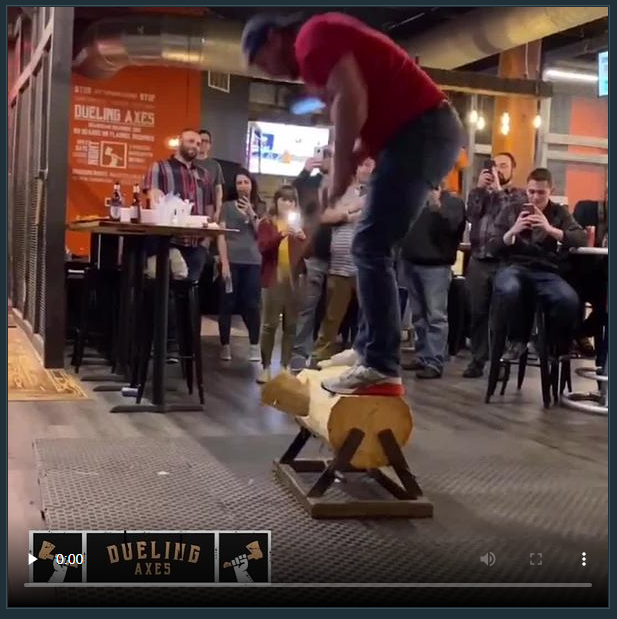 As we move to the present day, this gave rise to ax throwing outside of rural logging camps and backyard competitions. That would forever change the history of axe throwing.
Who invented axe throwing?
Axe-throwing bars and the sport of urban axe throwing are believed to have originated in Toronto, Canada, back in 2011. The original idea came from a trip to a cottage back in 2006. Years (and plenty of parties and noise complaints later), the Backyard Axe Throwing League (BATL) was officially born.
BATL founder and CEO Matt Wilson started the league in his backyard, complete with a point system and two full leagues each night. By 2011, they had outgrown Wilson's backyard and moved indoors in the west end of Toronto.
How did axe throwing become popular?
All credit for the origins of axe-throwing bars and leagues goes to the BATL. The BATL brought urban axe throwing to the world, cementing their spot on the history of axe throwing as an accessible activity. What was once seen as a sport for only lumberjacks and niche groups became a phenomenon among the masses.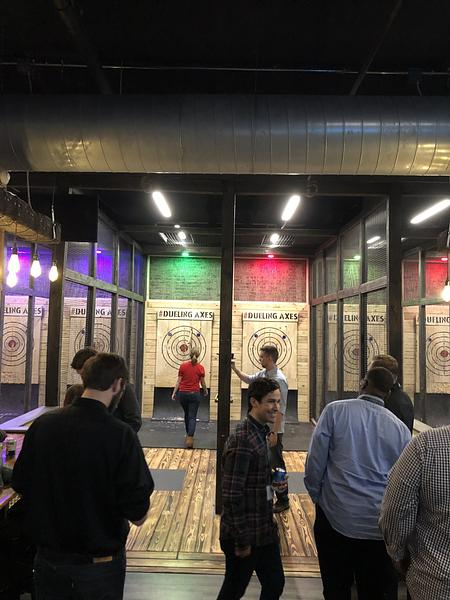 Toss in the fact it's a sport anyone can play; it's fast-paced and enjoyable, and it's not hard to see why urban axe throwing caught on as it did! Plus, what better way to blow off steam with friends or your co-workers than by hurling a metal axe into wood?
Women Axe Throwers
Ax throwing isn't just for the guys, either. Women are participating in the sport in larger numbers, both professionally and casually, at your local axe-throwing lounge!
In fact, almost 45 percent of the membership of the BATL is women! In league competition, there is rarely a divide between men and women. It's inclusive, with no age, gender, or body size separation.
After all, axe throwing is more about form and accuracy than strength. That's why women are so drawn to the sport. They don't have to be overly strong to participate and excel as urban axe throwers.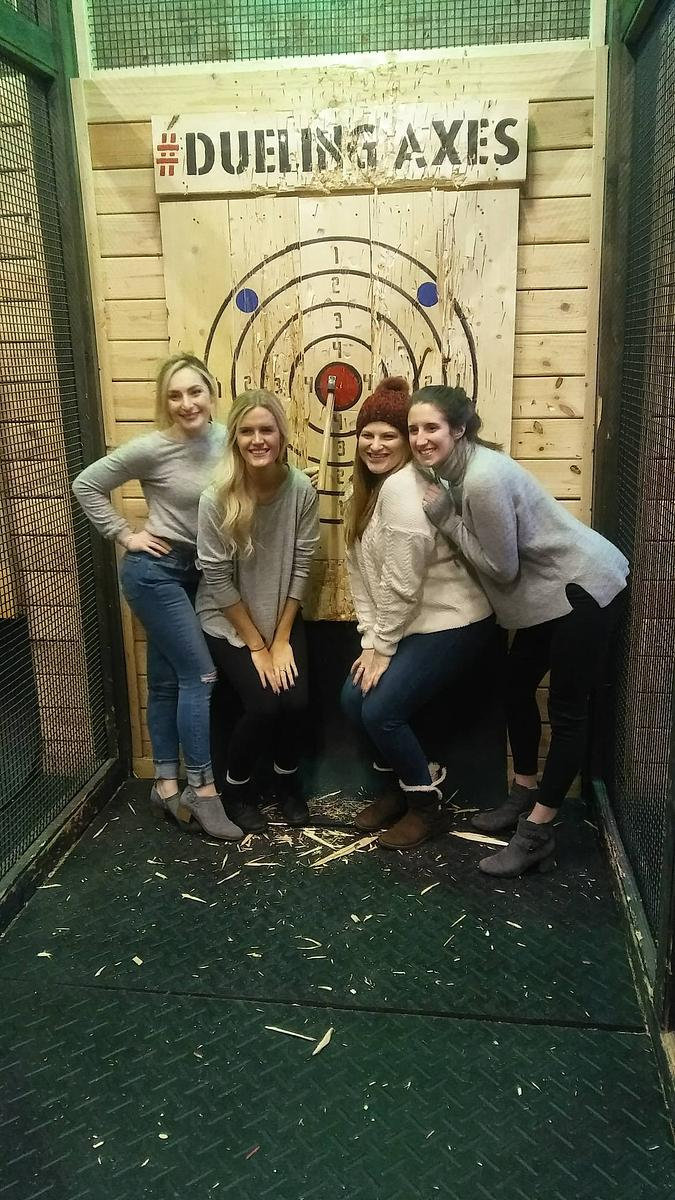 Though, getting to the top of the professional axe throwing rankings is still in progress for the ladies. However, they are starting to make their mark on the history of axe throwing. The number one female thrower, Anna Kohl out of Wisconsin, is ranked 30th worldwide. But, women are starting to make their mark on the history of axe throwing. There is now a growing presence thanks to female-only leagues, commissions, and overall representation in the sport.
Dueling Axes Anniversary
That brings us to the present day, where there are axe-throwing leagues and bars dotted across North America and beyond. From corporate team building to birthday and bachelor or bachelorette parties, axe throwing hits the mark with the masses.
Dueling Axes is celebrating our own history this July, as we mark our fourth year in business! In honor of our fourth birthday, every Dueling Axes lounge is teaming up with One Tree Planted. On July 15-17, Dueling Axes will donate $1 for each axe throwing participant, which equals 1 tree per thrower!
Dueling Axes is one of the only axe-throwing facilities in the United States to give our guests private throwing lanes where your safety training and 1-on-1 coaching take place before your reservation time starts. That's right; we promise to never pair you and your friends with people you don't know, and you will always get your entire reservation time to throw and play any variety of games that you choose.
Axe throwing is the MUST DO experience everyone is talking about. Ready to book your axe-throwing reservation and make your mark on the history of axe throwing? Claim your lane at Dueling Axes now!