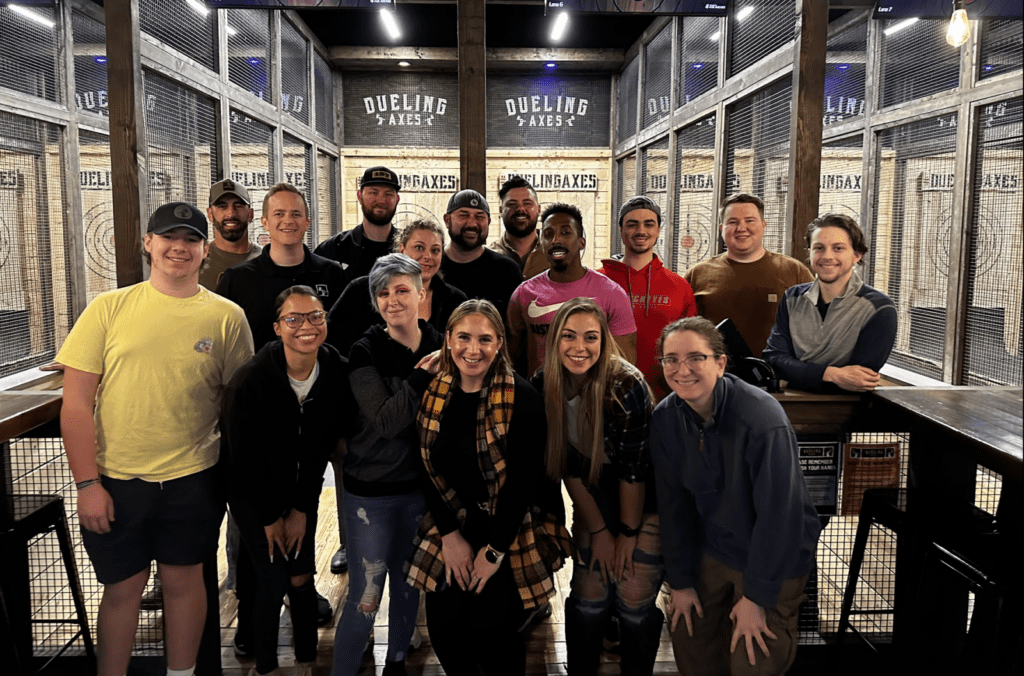 Forget what they say about Millennials and Gen Z – we've got our own standards for what qualifies as a good time with friends. While deep heart-to-heart convos are cool, sometimes all we want is to chill with our pals without any stress.
And guess what? National Friendship Day on July 30 is the perfect excuse to break free from that gripping Netflix binge and round up the squad! Ditch the never-ending group chat debates and take charge of your next guys (or gals) night out. How? By checking out Columbus' best bar and axe throwing lounge: Dueling Axes! This place is a total hit with the locals, college students, and tourists alike. Trust us, the experience is beyond comparison.
Still on the fence? No worries, we totally get it – friends just can't let friends throw axes alone! Keep reading to find out why one axe-throwing session on National Friendship Day won't be enough to satisfy your inner lumberjack cravings! Prepare for a blast of excitement, and get ready to make memories that'll have you hooked and coming back for more!
The Gang Goes Axe Throwing
Not all heroes wear capes; some work behind the scenes to help you plan a night out with your crew that you won't forget. Whether your friends are like The Office or the gang from It's Always Sunny in Philadelphia, all camaraderie is welcome on our turf. And while we may not be Paddy's Pub (mostly for liability purposes, you know?), we definitely keep it casual. So throw on your favorite pair of standing jeans and let's dive into why the hell axe throwing is the coolest thing ever.
You're probably wondering what this axe throwing thing is all about, right? Well, trust us, it's way more badass than you could ever imagine. Picture this: you and your crew, all huddled up in an industrial lounge, surrounded by the cheers and jeers of your pals. And here's the kicker – you're all armed with hefty axes, ready to take on that wooden target and let go of a fraction of the trauma you've held in for the past 30 years or so. But we'll unpack that another time. Let's get back to the perks that'll trigger even the slightest case of FOMO.

Group Deals Even Your Broke Friend Can Manage
Remember how you felt after hearing Spongebob's friendship song for the first time? Can relate – so much in fact, that we've designed group axe throwing packages around the entire concept. No matter if you're out celebrating a birthday, bachelor(ette) party, or you're trying to figure out if one of your coworkers is a serial killer during an optional…yet obligatory work outing, we're here to make sure you have a great time without breaking the bank. With as little as $35 per person, your whole crew can enjoy the lumberjack inspired ambiance.

Food, Drinks, And Laughter Galore
Whether toasting to good times or roasting each other throughout the night, you can dabble in both with our full service bar and order-in options from your favorite spots!
Here's the deal – we get that food cravings hit different for everyone. So why stick to a one-size-fits-all menu? Order in from your go-to Columbus restaurants and dig into your favorite dishes, right there at your axe throwing lane. Pizza from Mikey's Late Night Slice? You got it! Mouthwatering burgers from Hadley's? Consider it done! The power is in your hands. May the Force be with you.
Friendship Day? Nah, Celebrate Friendships Every Damn Day!
My friends, National Friendship Day is just the tip of the iceberg. Celebrating the bonds of shapes and sizes should happen every day, no matter what life throws your way. After all, they're probably pretty special if they're willing to hang with you on a regular basis (kidding, maybe). Book your reservation online or walk on into our lounge and get a taste of what it's really like to throw an axe like a true lumberjack – no flannels or beard required!