Originally posted by 614now.com
Written by Sav McKee, July 27, 2023
Columbus axe throwing concept adds mobile facility and Downtown full-service bar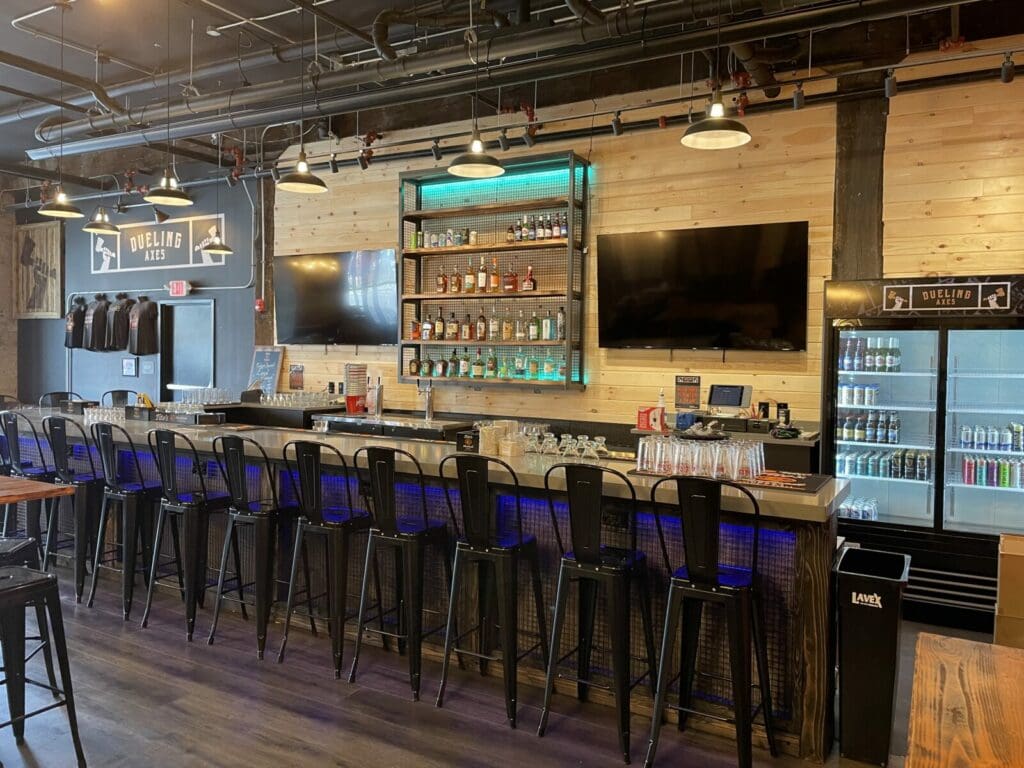 Dueling Axes newest bar addition in Downtown Columbus location

Dueling Axes, Columbus' premiere indoor axe throwing destination, has a lot to celebrate next month: it's their 5 year anniversary, they just installed a full-service bar at their Downtown location, and they recently added on a one-of-a-kind Mobile Axe Throwing Facility that's available to rent out throughout the city.
They want to commemorate their accomplishments with their favorite people: us. From July 5 – 16th, both the Downtown and New Albany locations will boast axe throwing deals, drink deals, and giveaways.
"Our goal has always been to be part of Columbus' entertainment scene, working with our neighbors to provide our customers an undeniably great experience exploring all our city has to offer," remarked Jess Hellmich, Chief Marketing Officer of Dueling Axes.
And, in order to remain a steady part of Columbus' entertainment scene, Dueling Axes made an executive decision to convert one of their Downtown axe throwing lanes into a full, 34 foot long bar, equipped with two 75" flat screen TV's, featuring a full array of spirits and beers, and nine signature cocktails.
They also expanded their axe throwing opportunities. Now, families and Columbus businesses can rent out their 4-lane mobile axe throwing facility for team outings, employee appreciation events, or just some good ol' family fun. Chief Operating Officer, Paul Sherry, emphasized, "As COVID has changed the landscape of team outings and employee appreciation events, many of those companies are hosting events on their property, and we want to provide an axe throwing experience to them that is on par with the elevated axe throwing experience we deliver in our brick-and-mortar locations."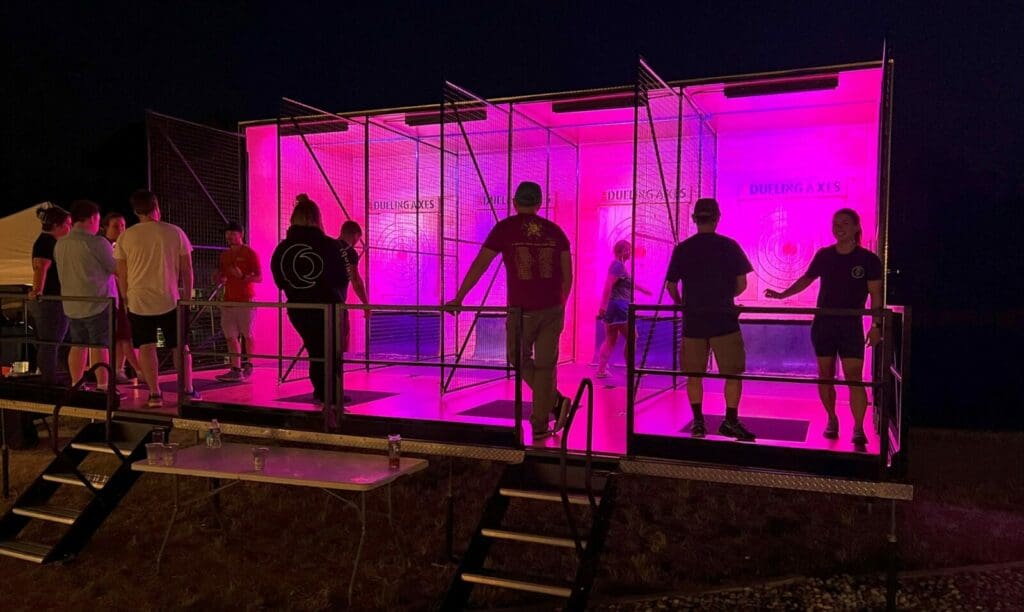 Photo of the Mobile Axe Throwing Facility
The custom built, 25' mobile facility is equipped with colorful lighting and speakers for music and announcements. It's already been featured at Abercrombie & Fitch Headquarters, The Arnold Sports Festival, Crewfest, Columbus Coffee Festival, and Brewdog.
Of course, "Celebrating these milestones calls for more than a single day event," said Joshua Stambaugh, Dueling Axes Columbus General Manager. "We wanted to do something more…to thank everyone who has been part of the Dueling Axes journey and helped our brand become synonymous with Columbus nightlife."
So, here's the two week run-down of deals, events, and giveaways:
July 5-16: all visitors at all Columbus locations will receive up to $15 off a 1, 1.5 or 2-hour reservation, plus 25% off merchandise. Bar deals include ½ off all draft beers until 9pm, signature cocktail specials, and any bar tab of $50 or more will receive a free shot glass. Also, all axe throwers will be entered to win prizes such as a 60" Flat Screen TV, a swag pack, a 2-hour axe throwing gift certificate, and shot glasses.
July 14th: from 7pm-10pm, there will be a huge anniversary party including all of the fun above, plus a live DJ for extra entertainment.
CMO Jess Hellmich wants to thank Columbus for sticking with them through expansions and COVID. "We're extremely proud of the brand that Dueling Axes has become after 5-years of operation, and it is not lost on us that we have the city of Columbus and its residents to thank for our success…the folks in this city made it clear that axe throwing was something they wanted to keep on doing through it all. For that, we are forever grateful…" Hellmich said.
Although flannel and beards are welcome at this celebration, they're not necessary. Dueling Axes welcomes everyone to their re-opening and birthday bash.
For more specific information, visit here.